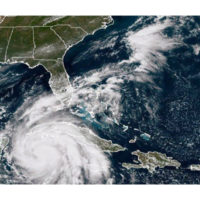 September 27, 2022
By News Director Jared Atha
Electric crews from Public Service Company of Oklahoma are heading to Florida to assist with any possible damage from Hurricane Ian.
More than 200 people from multiple Oklahoma power companies are going to Florida to help in any way they can as a category four hurricane is expected to make landfall on Wednesday.
150 PSO workers are driving from Oklahoma to southern Florida ahead of Hurricane Ian, which is predicted to hit the state as a category four storm, packing 130mph winds.
Crews are expecting to find out what caused power outages, rebuild lines and poles, and installing transformers.
Hurricane Ian already ripped through the Cayman Islands, leaving behind weeks of cleanup.
PSO along with other power companies expect to stay in place for as long as they are needed, but after two weeks new crews will likely be sent down to relieve workers already on the ground.
Got a news tip? Send it in: Email news@kecofm.com
Copyright 2022 Paragon Communications. All rights reserved. This material may not be published, broadcast, rewritten, or redistributed without permission.
November 24, 2022 Roger Mills Co. Election Board Press Release Candidates for the Board of Education in 9 Roger Mills County school districts will file Declarations of2Candidacy beginning 8 a.m. Monday, December 5th, 2022.