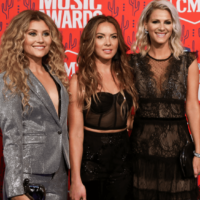 Runaway June's Naomi Cooke has announced her plans to pursue a solo music career. The singer-songwriter shared the news on Instagram, saying the decision wasn't easy but she's ready for something new.
Cooke shared a picture of herself singing onstage, with the caption: "I am incredibly excited to officially be able to announce that I am taking a new musical journey as a solo artist, and I am beyond excited to share new stories and music with you. It has been 7 wonderful years as the lead singer of Runaway June, and I am so grateful for the memories and time well spent with my bandmates, Hannah, Jen, and Natalie. It has been extremely hard to keep quiet about what I've been up to, and I cannot wait to share everything with you all very soon!! I miss you guys so much, and can't wait to see y'all out on the road. I love you guys so much I could burst. ~ Naomi Cooke Johnson."
Cooke started Runaway June in 2015 with bandmates Jennifer Wayne and Hannah Mulholland. Mulholland ;eft the group five years later, and was replaced by Natalie Stovall.
Editorial credit: Debby Wong / Shutterstock.com