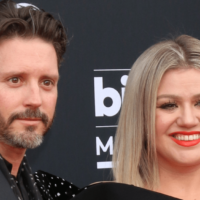 According to reports, Kelly Clarkson has reached a divorce settlement with her ex-husband, Brandon Blackstock. A judge in L.A. Superior Court has signed off on the terms of the divorce, which awards Clarkson primary custody of the couple's children, River Rose and Remington Alexander. Blackstock will have the children once a month while he continues to live at their ranch in Montana until June 1st; he will reportedly pay $12,500 a month in rent while he lives at the ranch. Blackstock is a former talent agent, who claims he is switching careers to become a full-time rancher.
Blackstock will also receive financial support from Clarkson.  He will receive $115,000 a month in spousal support until January 2024.  Clarkson will also pay him $1.3 million as part of the divorce settlement, and he will receive another $45,600 a month in child support to cover the costs he'll incur when he has visitation with their children.
Blackstock and Clarkson were married in October of 2013; Clarkson filed for divorce in June of 2020. In July of 2021, a judge ordered Clarkson to pay Blackstock $150,000 in spousal support and $45,601 in child support each month temporarily until a final divorce settlement was in place. In January of 2022, Clarkson and Blackstock reached an agreement in which she gave him just over five percent of the Montana ranch, which is where he's been living since the news of their divorce.
Editorial credit: Kathy Hutchins / Shutterstock.com