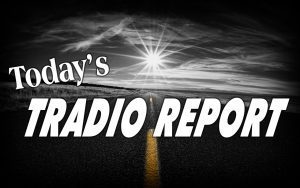 Tradio is heard every Monday through Friday from 10am – 11am and Saturdays from 8am – 9am. Callers can call or text 580-225-9697 to buy, sell, or trade during that time (limit three items per call please). When texting in an item please be short and descriptive and include a phone number. No pictures with texts please. Non commercial items only please. If you would like to advertise your business please call 580-225-9696
---
FOR SALE:
12′ SPRING TOOTH HARRAH FOR TRACTOR 3 POINT 175
2001 GMC DUALLY $6000
170 RZR
7991307
FOR SALE: MAROON CLOTH LIFT CHAIR FOR LARGE PERSON $250
3 BED 1 BATH HOME ON 2 LOTS IN WATONGA FOR SALE
LOOKING FOR PADS FOR LARGE WATER COOLER BACK AND TWO SIDES
5806141978
GARAGE SALE AT 707 NORTH BOWMAN IN ELK CITY 8A-11P
FARMERS MARKET IN CORDELL, SOUTH SIDE OF THE COURTHOUSE-
5806605992 8AM-12PM
BRAND NEW CHARCOAL GRILL, PORTABLE AND FOLDABLE, STURDY STEEL CONSTRUCTION $25
FOR SALE: NICE STAINLESS CITRUS JUICER $25
FOR SALE: 13″ SPARE TIRE, MOUNTAIN ON WHEEL $30
5802438364
GARAGE SALE AT 206 FOX RIDGE IN ELK CITY
YARD SALE 9-1 702 SOUTH OKLAHOMA IN ELK CITY BEHIND GARAGE
HEALER PUPPY FREE TO A GOOD HOME, LOVES KIDS
5803391549
1250 GALLON WATER TANK $400 OBO
5806605345
FOUR KITTENS FOR FREE-8 WKS OLD
1 AND 1/2 SHEETS OF 1/2″ SHEET ROCK FOR SALE
HALF A SHEET OF PRETREATED PLYWOOD FOR SALE ALL OF THIS FOR $12
2108169
POOL FOR SALE: 15′ WIDE x 42″ DEEP, COMES WITH FILTER PUMP, LADDER, NOTHING WRONG WITH IT
5802439090
LOOKING TO TRADE HORSES (NOT RIDEABLE) FOR TRACTOR
5806743189
SANTA FE ROPING SADDLE FOR SALE -15 1/2 INCH SEAT $450
BRIDLE AND TACK
PACK SADDLE
8212697
MATCHING FLOOR LAMP AND TABLE LAMP $20
SET OF DISHES $20
PINK PIT CRATE-SUITABLE FOR SMALL DOG OR CAT $15
CALL OR TEXT 5803014556
4000 GENERATOR PORTABLE $250
KODIAK TRUCK PARTS-NEW FOR SALE
EXTENDED STAY FIFTH WHEEL CAMPER 38′
32500
LOOKING FOR SOMEONE TO DO YARD WORK
8062021768 IN CLINTON
CHARCOAL WOOD BURNING SMOKER GRILL $400
FR JEANS DIFFERENT SIZES 36X36 -40X42
SPARE LAWN MOWER FOR SALE-WILL TAKE BEST OFFER
5803031704
ENTERTAINMENT CENTER FOR SALE 650
GLASS SHOWCASE FOR SALE 200
5802108113 IN ELK CITY
FARMERS MARKET IN SAYRE
7291100
1995 JEEP GRAND CHEROKEE WITH 4.0 LOOKING TO SELL OR TRADE
6028759807
RED CAT AVALANCHE 4X4 ELECTRIC RC TRUCK
2 BATTERIES WITH IT, NO CHARGER 185
ATS HUIGH FLOW EXHAUST MANIFOLD FOR CUMMINS DIESEL ENGINE 450
YEAR OLD HEIFER COW, BLACK ON BOTH ENDS, WHITE IN CENTER 800 OBO
IN CANUTE 5803394033
ESTATE SALE @ 107 WEST BROADWAY IN CHEYENNE
CANUTE TOWN WIDE YARD SALE- ALL DAY LONG
From the Sugar Creek Casino Text Line
Looking for a good front bumper for a 99 to 2002 Chevy Silverado or 2000 to 2006 Chevy Tahoe, also have for sale a GM bed cover off of a 2012 Chevy four-door short bed, $$300 obo, my number is +15808214306
1992 dodge d250 club cab long bed diesel. 170000 miles. Asking $6000. Call or text 5804976048
For sale: refurbished patio bench and hall tree. Can email pictures. 580-374-1424
Looking to buy YOUNG laying hens. 580-374-1460
For Sale
2008 Dodge Durango
2 wheel drive
4.7 liter engine
163000 miles
$3200 boo
1580-515-0397
FREE. Male dwarf goat. Almost a year old. Moderately gentle. Black with a little white. 580-799-2131.
looking to buy husky or German shepherd puppy . Can contact me at 15808216761
Free kittens approximately 8 weeks old in elk city 580 374 3036
We need a house clean you can call at 405 740 1005 thank you