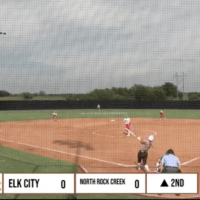 Elk City Elkettes Shine in All District Awards
The All District awards for Class 4A District 1 Fast Pitch softball were unveiled today, and the Elk City Elkettes stood out with several notable accolades.
Standouts in the Spotlight
Sophomore Aubrie Pogue claimed the prestigious title of the all-district pitcher of the year.
Junior Ella Sottile exhibited exceptional skills and was honored as the district's defensive player of the year.
Senior Brianna Butler showcased remarkable prowess as the all-district first baseman.
Senior Madison Holladay demonstrated outstanding performance, earning her a well-deserved spot as an all-district outfielder.
In addition to these remarkable achievements, Lou Wyatt, Blakely Ball, and Emily Lowrance received well-earned recognition with all district honorable mentions.

Listen In for More Updates
For further insights and the latest updates, be sure to click play and tune in to today's Skinny on Sports report. Catch all the highlights, including this story and more!