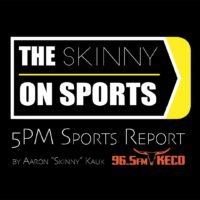 Tonight, the fortunes of one NBA franchise will be forever changed, or so the experts believe. The highly anticipated NBA Draft Lottery is set to take place this evening, just before Game 1 of the Western Conference Finals between the Nuggets and Lakers. This event carries immense significance, and it all centers around one name: Victory Wembenyama.
Wembenyama, often referred to as a unicorn in basketball circles, stands well over 7 feet tall and possesses the skills of a guard. Many draft experts consider him to be the most promising prospect since LeBron James, capable of transforming the fate of whichever team secures the top pick in the lottery.
This brings us to the Oklahoma City Thunder, who currently hold the 12th best odds out of the 14 lottery teams. Their chances of landing the #1 pick stand at a mere 1.7%, with an 8% chance of breaking into the top 4. Although the odds may seem slim, lightning could strike, propelling the Thunder to the pinnacle of the league.
The lottery results will be revealed starting at 7 PM tonight, and the basketball world awaits with bated breath. Tune in to our 5pm Skinny on Sports Report to learn about the outcomes of the NBA Draft Lottery and more exciting news from the world of sports.
Remember to stay updated with the latest sports news and stories by listening to our 5pm Skinny on Sports Report. Don't miss out on the action and the potential game-changer that awaits in the NBA Draft Lottery.