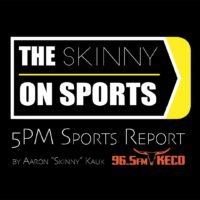 Only have a minute? Click play to listen to this Skinny on Sports Report by Aaron Kauk
The Oklahoma Coaches Association All-State teams and coaching staffs were announced today, and there's plenty of local talent to be found. Merritt Oilerette Head Coach Jeff Daugherty and Elkette Head Coach Sean Hamm have been named as the small and large West assistants, respectively.
Local Players Represent on Small and Large West Teams
These coaches will have the opportunity to coach some of the best high school players in the state. Among the local talent on the Small West team are Katie Edelin of Arapaho-Butler, Hammon's Maylee Chaney, and Anna Sant'Anna of Arnett. Meanwhile, the Large West All-State Team features Addy and Jordan Hoffman of Weatherford.
All State Game Set for July 26th in Sapulpa
The All-State game is scheduled for July 26th at the Chieftain Center in Sapulpa, and it promises to be a showcase of some of Oklahoma's finest high school softball talent.