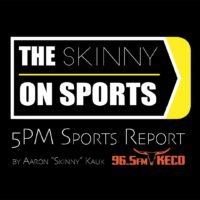 Elk City vs. Carl Albert: A Tough Battle
Friday night at Big Elk Stadium, Elk City faced off against the formidable 5A #1 ranked Carl Albert for homecoming. The game started explosively for both teams, but the Elks' response was swift. Logan Webb's pass to Reece Burton tied the score at 7-7. However, that would be the closest they got. Carl Albert dominated, winning 56-14. The Elks end non-district play at 2-2, while Carl Albert stands undefeated at 4-0.
Merritt Bulldogs: Dominant Display
On the road in Minco, Merritt Bulldogs displayed sheer dominance, securing a commanding 67-24 victory over the Oilerettes. Merritt's record now stands at 1-2. They prepare to face Mooreland in a pivotal district matchup.
Hollis Tigers vs. MVG: A Tough Battle
Hollis Tigers held their home opener against Class C #3 MVG. In a hard-fought battle of the Tigers, MVG emerged victorious with a 32-14 win. Hollis' record now stands at 1-2. They gear up to face Cyril in their next matchup.
Western Oklahoma Showdowns: Standout Performances
Chickasha vs. Anadarko: Chickasha dominated with a 31-8 victory.
Hobart vs. BFDC: Hobart secured a convincing 41-13 win.
Canton vs. CBA: In a shootout, Canton emerged triumphant at 50-42.
Hinton vs. Carnegie: Hinton delivered a resounding 55-20 victory.
Elgin vs. Weatherford: Elgin outscored Weatherford with a 42-7 win.
Mangum vs. Sayre: Mangum pulled away with a 49-20 victory.
Newcastle vs. Woodward: Newcastle delivered a commanding 69-7 victory.
Seiling vs. Ok Bible Academy: In a hard-fought battle, Seiling secured an 18-14 win.
District play kicks off next week, promising more thrilling high school football action in Western Oklahoma. Elk City gets some well-deserved rest before facing Clinton at the Tornado Bowl on Sept 29th. Merritt braces for a crucial district matchup against Mooreland, while Hollis looks to bounce back against Cyril. Stay tuned for more gridiron excitement!