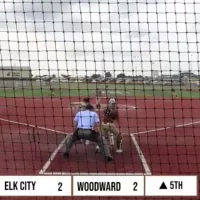 The fast pitch softball action in Class 4A district 1 took center stage with high-stakes matchups. The top four teams clashed, creating opportunities to either extend their lead or tighten the competition.
Elk City Elkettes Triumph Over Woodward
In an exciting showdown, the Elk City Elkettes overcame an early deficit to secure a 4-2 victory against Woodward. Falling behind 2-0, the Elkettes rallied with two runs in the 4th and 6th innings. Briana Butler and Lu Wyatt each went 2-3, with Butler contributing 3 RBIs and Wyatt delivering the other RBI. Aubrie Pogue showcased her prowess in the circle, pitching the complete game with 7 strikeouts, 2 walks, and allowing only 2 unearned runs on 3 hits.
Weatherford Lady Eagles Dominate Bethany
The Weatherford Lady Eagles extended their district lead with an emphatic 11-1 win over Bethany. Marley Teasley shone with a 3-4 performance and a pair of RBIs. Dacey Morris contributed significantly, going 2-2 with 3 RBIs. Teasley also excelled as the pitcher, going the distance with 4 strikeouts, 1 walk, and conceding just 1 run on 1 hit in 5 innings.
Standings and Future Matchup
The current standings showcase Weatherford at the forefront with a 5-0 record. Bethany and Elk City share the second spot in the loss column. Woodward follows at 4-3. The battle for second place intensifies as the Elkettes prepare to face the Lady Bronchos in a crucial match.
Other Fast Pitch and Fall Baseball Highlights
In additional fast pitch softball action, Arapaho-Butler defeated Vici 10-2, Arnett secured wins against Bray-Doyle (5-0) and Clinton (10-1). Fall baseball scores included Calumet's 5-0 win against AB, Arnett's 13-5 victory over Sweetwater, Cheyenne's 9-2 triumph against Fargo-Gage, Leedey's commanding 13-0 whitewash against Drummond, FCB's 8-0 shutout of Navajo, and more.
Stay tuned for more exciting updates and developments in the world of fast pitch softball and fall baseball!
🎧 Listen to the Full Report