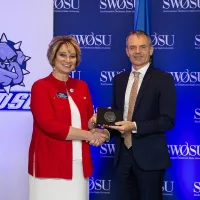 September 29, 2023
SWOSU Press Release
Southwestern Oklahoma State University (SWOSU) had the honor of welcoming Ambassador Jesper Møller Sørensen from the Kingdom of Denmark on Wednesday, Sept. 27. The Ambassador's visit to SWOSU was part of a multi-day series of gatherings organized by the Oklahoma Department of Commerce and the Danish Trade Council in North America focusing on clean and renewable energy.
Ambassador Sørensen currently serves as the Ambassador of Denmark to The United States at the Royal Danish Embassy in Washington D.C. Prior to this role, he held positions such as State Secretary for Foreign Policy in the Ministry of Foreign Affairs of Denmark, Political Director in the Foreign Ministry, and Ambassador of Denmark to Pakistan. Ambassador Sørensen began his career at the Ministry of Foreign Affairs in Denmark in 1997, holding various diplomatic roles worldwide. He holds a Master of Political Science from the University of Copenhagen and is a Knight of the Order of Dannebrog.
The Ambassador's visit commenced with a luncheon held in the Pioneer Event Center's Skyview Suite. Attendees included SWOSU President Dr. Diana Lovell, Provost Dr. Joel Kendall, Assistant Vice President of Public Relations & Marketing Dr. Boone Clemmons, and International Student Services Coordinator Ms. Mihaela Roxana Ifrim. Additionally, the luncheon would not have been possible without the work of teams led by Mr. Bryce Wood, PCEC Director, and Ms. Radonna Sawatzky, Food Services Director.
Following the luncheon, Ambassador Sørensen was guided on a tour of the state-of-the-art General Thomas P. Stafford Archives at the Al Harris Library. Here, he engaged with students from SWOSU's President Leadership Class, Student Government Association, and SWOSU International Student Association. He also met one of SWOSU's three Danish students, Mr. Anders Strand. This component of his visit was made possible by Dr. Adam Johnson, Vice President for Student Services; Mr. Jason Dupree, MLIS, Director of Libraries and Assistant Professor; Mr. Philip Fitzsimmons, MLIS, University Archivist and Special Collections Librarian, and Assistant Professor.
Continuing the tour, the Ambassador visited the SWOSU Department of Engineering Technology, which has played a significant role in the university's increase in STEM graduates over the last decade. He interacted with students and faculty and discussed Denmark's clean and renewable energy sector, as well as how SWOSU students might contemplate pursuing career opportunities in these sectors. Mr. Brett Chase, Chair of the Department of Engineering Technology, facilitated this segment of the visit.
"SWOSU would like to express gratitude for the opportunity to host Ambassador Sørensen and the delegation from Denmark. This visit strengthens the bonds between our educational institution and the global community: it was truly a historic day for SWOSU" said Dr. Lovell.
Copyright 2023 Paragon Communications. All rights reserved. This material may not be published, broadcast, rewritten, or redistributed without permission.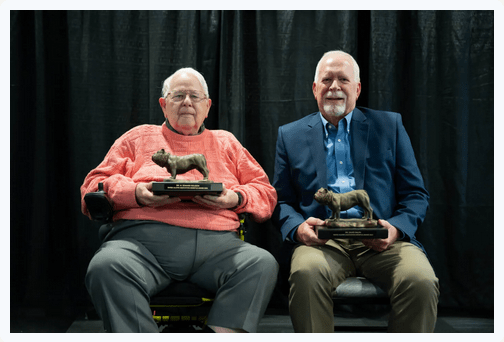 December 7, 2023 SWOSU Press Release SWOSU is currently accepting nominations for the 2024 Bernhardt Academic Excellence Award. The nomination deadline is on Jan. 16, 2024, with nomination credentials due on Feb. 13, 2024. A selection will