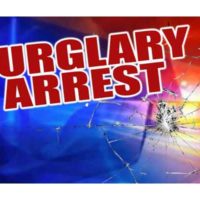 October 30, 2020
By News Director Jared Atha
Two suspected burglars were arrested in Cordell recently after both left their IDs at the home.
According to a probable cause affidavit, the home owner arrived home on the afternoon of October 15 while the burglary was in progress, and would later tell police that she found that her front door had been locked with a bike lock wrapped around the handles on the inside of the door. She would say that a short time later she would see the two suspects, a male and a female, exit through the front door. She stated that after being seen, the suspects would run back into the residence and exit through the back door.
The court document stated that while investigating the scene with the police, the homeowner found a wallet with an ID inside. She stated that the picture on the ID was of the male suspect, identified as being 24-year-old Troy Allyn McClain. A separate ID was also in the wallet with the name of a 17-year-old female.
During the investigation, the homeowner would determine that a large amount of jewelry had been taken, along with a 16 gauge double barrel shotgun.
Later that afternoon police located McClain at a city park carrying a ladies wallet that contained what was later determined to be some of the stolen jewelry. McClain was placed in custody and transported to the Washita County Jail, booked-in, and interviewed. McClain would tell authorities where he suspected the female suspect was located. Officers would locate the suspect with the rest of the suspected stolen jewelry. She was arrested and booked into the Washita County Jail.
Both McClain and the female were charged with 2nd degree burglary along with knowingly receiving or concealing stolen property.
A preliminary hearing for both defendants is scheduled to take place on December 15.