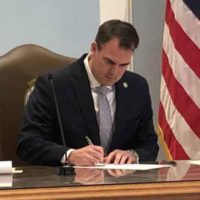 November 24, 2021
By News Director Jared Atha
Oklahoma Gov. Kevin Stitt signed into law newly drawn maps for the state's five congressional and 149 state House and Senate districts.
The bills, approved by the Legislature during a special session last week, contain the new district boundaries that will be in place for the next 10 years.
The new maps had to reapportion the state's population, which has continued shifting from rural communities to urban and suburban areas.
House District 57 Representative Anthony Moore Rep. – Clinton says the new boundaries did have push back from Democrats.
The change sees District 57 give up parts of Blaine and Canadian Counties, and obtain all of Roger Mills and Custer Counties. The district will also include the western half of Beckham County.
Cities encompassed by the district include Clinton, Weatherford, and Sayre.
The new boundaries for House District 55 will see an eastern portion of Beckham County, along with all of Washita County in the district. It will also encompass a portion of Caddo, Blaine, and Canadian Counties.
Cities in H.D. 55 will include Elk City, Cordell, Hydro, Geary and Calumet.
Currently H.D. 55 is represented by Todd Russ, however due to term limits, he will serve his final session in the seat next year.
Copyright 2021 Paragon Communications. All rights reserved. This material may not be published, broadcast, rewritten, or redistributed without permission.