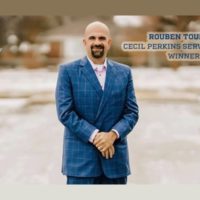 April 28, 2022
SWOSU Press Release
Longtime SWOSU Athletic supporter and former SWOSU Assistant Athletic Director Rouben Tourian has been selected as the 2022 recipient of the Cecil Perkins Service Award.
The honor, which is presented by the SWOSU Athletic Department, was awarded Wednesday evening at the department's annual All-Sports Award Ceremony held at the Pioneer Cellular Event Center.
"I told Todd (Helton) when he called me that I don't need any recognition for the things that I do or have done for the athletic department but am so thankful and humbled to be selected," Tourian said. "It really is an honor to be chosen for an award named after the Godfather of SWOSU Athletics himself, Cecil Perkins."
Tourian graduated from Weatherford High School and attended SWOSU in the early and mid-1990s. He played two years on the SWOSU Football team from 1991-92 and graduated with a bachelor's degree in Business Management in 1996. In 2013, Tourian went on to complete his master's degree in Sports Management from SWOSU.
Upon graduation, he owned and operated popular local sports grill and restaurant Benchwarmer Browns in downtown Weatherford before selling it in 2000. He was known during that time for his discounts to SWOSU supporters and his constant support to the athletic teams.
In 2006 Tourian was hired by, then, current SWOSU Athletic Director Cecil Perkins as the Assistant Athletic Director of External Operations. The position allowed him to oversee the department's corporate sponsorship packages, marketing, and promotion efforts as well as work with various support groups, including the SWOSU Athletic Association. He had already been volunteering his efforts for years prior but made the move to work directly for the athletic department full-time.
In his role, Tourian was known for his contributions towards the annual SWOSU Athletic Auction – a fundraising auction held every summer to raise money for the athletic department. He, alongside the SWOSU Athletic Association, implemented the auction with the goal of boosting scholarships available to student-athletes.
When asked about his favorite memory in support of SWOSU, Tourian did not hesitate.
"Getting a call from Rex Ryan (former New York Jets head coach and SWOSU alum) on my cell phone telling me he was going to gift the athletic department four tickets to his personal suite for a Monday Night Football game. Looking back, seeing how much that gift impacted the department and the kids, and the story behind it – that's got to be it."
Tourian has moved on from his full-time role with the athletic department but remains an active supporter of Southwestern Oklahoma State University and SWOSU Athletics and has previously served as a board member of the SWOSU Athletic Association for many years. You'll find Tourian at most home SWOSU events and often in front of a grill or oven cooking meals in support of various teams.
"If it weren't for SWOSU, I wouldn't be in Weatherford. Plain and simple. I love this university and the athletic department, and I love to see it succeed!"
Today, Tourian resides in Weatherford with his daughter Ava and currently works for Dillingham Insurance as a Benefits Consultant in Oklahoma City.
This is the 10th year that the Cecil Perkins Service Award has been presented. The award is named for Perkins, the former SWOSU Athletic Director who passed away in September 2013. Perkins helped pioneer the direction of the Bulldogs' athletic programs for more than a quarter century, elevating the SWOSU Athletic Department to the NCAA Division II level. His philosophy of putting the student-athlete first in any decision has led to hundreds of individual success stories that continue to positively impact the new generation of students, coaches and teams at SWOSU and beyond.
Cecil Perkins Service Award Recipients
2021: President Randy Beutler
2020: Herschel Brewster
2019: Stan Garrison
2018: Les Crall
2017: Jim Litsch
2016: Jimmy Harrel
2015: Rick Koch
2014: Max & Judy Pyron
2013: Joe Phillips
Copyright 2022 Paragon Communications. All rights reserved. This material may not be published, broadcast, rewritten, or redistributed without permission.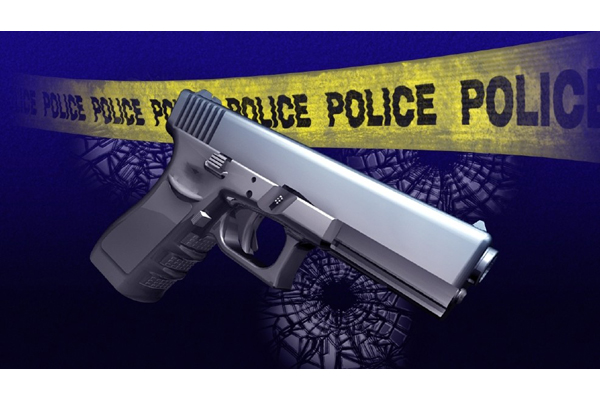 August 17, 2022 By News Director Jared Atha A Clinton man received a felony charge of assault and battery with a deadly weapon in Custer County District Court recently after allegedly firing a handgun at a man