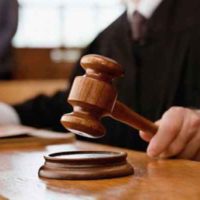 January 4, 2020
By News Director Jared Atha
A Weatherford man charged with murder attempts to have the charge dropped.
However, a Custer County Judge over ruled the request.
According to court records, 22-year-old Cole Issac Phillips, who allegedly shot another man in April of last year, requested the charge of first-degree murder – deliberate intent to be dropped and that the incident be ruled as self-defense. Associate District Court Judge Donna Dirickson over ruled the request.
Court records also show that Phillips also requested an evidentiary hearing to further his claim that he is entitled to immunity in the case due to his claim of self-defense.
No hearing has been scheduled based on the latest request.
The incident took place on April 4, 2020, when Phillips allegedly shot his friend after they had been in an argument. According to officials the shooting occurred in the 700 block of East College Street in Weatherford. Police were dispatched to the location after the reporting person allegedly had told a 911 operator that he had shot his friend. According to officials, when police arrived they found the victim 20-year-old Josh Price, had already succumbed to an apparent gunshot wound.
Phillips was arrested and ultimately charged with the shooting a short time later.
Phillips is due back in court on February 26 for a pre-trial docket hearing.