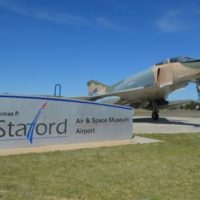 January 20, 2021
By News Director Jared Atha
During the latest Oklahoma Aeronautics Commission meeting, the Commission was briefed on upcoming airport projects that will likely be granted for calendar year 2021.
One of those projects is right here in western Oklahoma.
In the previously approved statewide Airport Construction Program for fiscal years 2021 through 2025, construction activities are projected for the next five years at over 50 different Oklahoma public airports. Under the program, $136 million in improvements are planned at airports across the state to do projects such as extending runways, replacing lighting systems, constructing new terminal buildings and rehabilitating pavement.
Major projects scheduled to receive funding outside of the metro areas include $1.3 million to construct a new terminal building at Thomas P. Stafford Airport in Weatherford. The Watonga Regional Airport is also projected to receive $2.1 million to reconstruct runway 17/35 and the connecting taxiway and install LED runway lights.
Also during the January 13 meeting, two new commissioners that were appointed by Gov. Kevin Stitt attended their first meeting including District 3 Commissioner Charles Ortega from Altus.