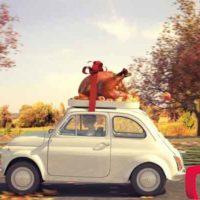 November 25, 2020
By News Director Jared Atha
Although travel this Thanksgiving holiday is expected to be lighter than expected due to the pandemic, both the Oklahoma Highway Patrol and the Texas Department of Public Safety still advises travelers to practice safety.
The OHP says There may be fewer traveling in this unique season, but 2020 has already shown that fewer motorists behind the wheel doesn't correlate with safety on the roadways.
OHP will be participating in the I-40 & I-35 Challenge once again this year and will have troopers assigned every fifteen (15) miles on those highways on Wednesday November 25 and again on Sunday November 29, the busiest travel days of the year.
The Texas DPS says as part of the nationwide Operation CARE (Crash Awareness and Reduction Effort) initiative, DPS Troopers will be increasing patrols beginning Wednesday, Nov. 25, through Sunday, Nov. 29. DPS Troopers will be looking for drivers who violate the law, including those who are speeding, driving while intoxicated, failing to wear a seat belt, driving without insurance and not complying with the state's Move Over, Slow Down law, among other traffic violations.
In addition to Operation CARE, DPS Troopers are also participating in the annual Click It or Ticket initiative, which runs through Nov. 29, with an emphasis on enforcing seat belt use for both drivers and passengers.