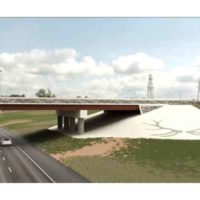 October 28, 2020
By News Director Jared Atha
Even though the state's first diamond divergent interchange bridge project in Elk City has been open and operational for a little over a month now, some finishing touches still need to be addressed.
This according to Elk City City Manger Tom Ivester. He says some details on who should be responsible for the lights still needs to be figured out.
The bridge, which is located at the intersection of State Highway 6 and Interstate 40 was a project that both the city and state partnered on, with the city agreeing to pay for the aesthetics of the bridge which included the decorative oil derricks, and elk statues.
In other city news, Ivester says the city continues to work on the tower lights on I-40 on the east side of the city. He says crews can not determine why the lights keep malfunctioning.