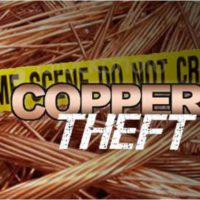 Copper Thief Captured and Charged in Beckham Co.
January 26, 2022
By News Director Jared Atha
A Weatherford woman was caught in the act of stealing copper wiring from an Elk City oilfield service company recently.
However, an accomplice in the crime was able to flee the scene and avoid arrest.
According to a probable cause affidavit, 42-year-old Meribeth Marie Jones was arrested on the morning of January 13 after a reporting party notified the Beckham County Sheriff's Department that a vehicle with a trailer was found at the business located on Merritt Road – on the west side of Elk City.
When authorities arrived, they would find several tool bags and bolt cutters laying next to equipment. They would also observe copper wire that appeared to have been cut from the equipment laying on the ground.
Later deputies would find the suspect, Jones, hiding under metal piping.
Jones would tell the deputies that her along with a male accomplice arrived at the yard earlier in the morning to cut and steal the copper wiring from the equipment. She stated that the male subject had left the area when the reporting party arrived to the location.
The affidavit stated that the subject was observed on business cameras walking south, away from the crime scene, however he was not located.
During an interview with authorities at the Beckham County Sheriff's Office, Jones would tell deputies that they intended to take the wire and sell it to a recycling business in Weatherford.
She also stated that this wasn't the first time the pair have committed this crime.
Jones would also tell deputies that she had assisted the male subject in stealing copper wire in the past at a location in Thomas.
Jones was charged with entering with intent to steal copper, burglary in the second degree, conspiracy, and pattern of criminal offenses last week.
Bond for Jones was set at $20,000.
Her next court date is scheduled for February 14.
Copyright 2022 Paragon Communications. All rights reserved. This material may not be published, broadcast, rewritten, or redistributed without permission.