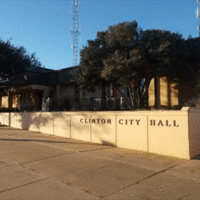 January 17, 2022
By News Director Jared Atha
The Clinton City Council is scheduled to meet in regular session Tuesday night.
Items the council will consider including an inter-local agreement with the Custer County Sheriff's Office and the City of Clinton regarding two surplus Crown Victoria Police Vehicles in exchange for trustee labor.
If approved, the agreement is set to renew annually unless terminated by both parties.
Tuesday night's meeting in Clinton City Hall is scheduled to take place at 5:30.
Copyright 2022 Paragon Communications. All rights reserved. This material may not be published, broadcast, rewritten, or redistributed without permission.