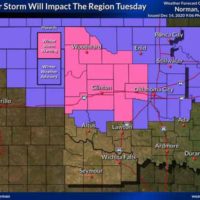 December 15, 2020
By News Director Jared Atha
After receiving nearly five inches of snow in parts of western Oklahoma on Sunday, a second wave of snow hit the area Tuesday.
According to the National Weather Service in Norman, a winter weather warning remains in affect for area counties including Ellis, Roger Mills, Dewey, Custer, Beckham and Washita until 9:00 p.m. tonight.
Meteorologists warn that the majority of the area saw the snow come in around mid-morning, and says the commute home could be treacherous with snow and possible ice accumulations on area roadways.
According to a map provided by the Oklahoma Department of Transportation's website, Interstate 40 in both Beckham and Custer Counties are described as being in moderate condition with drivers advised to use caution, reduce speed and stay back 200 feet from snow removal equipment and to also be alert to changing conditions which may deteriorate rapidly.
Main highways in northwest Oklahoma, including highways in Ellis and Dewey Counties, are described as being in severe condition. Saying driving can be dangerous and to avoid if possible.
KOCO Chief Meteorologist Damon Lane says with all the snow over the past three days, there is good news: a significant amount of moisture.
Snow chances dwindle going into tonight with sunshine returning to the forecast tomorrow.