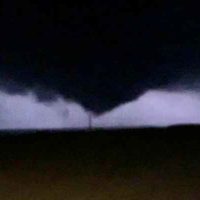 October 13, 2021
By News Director Jared Atha
Severe weather that spawned multiple tornadoes rolled through western Oklahoma Tuesday night, leaving behind damage on the east side of Clinton.
According to City Manager Robert Johnston, the primary areas of damage were on the east and northeast side of the city, that saw power lines and traffic signs blown down, along with with damage to the Clinton Regional Airport.
Custer County Emergency Management Director Mike Galloway told the Oklahoma News Network that eight hangers, the terminal building, and all the airport equipment will have to be replaced at a cost of about $7 million.
A local body shop in Clinton also sustained roof damage.
A separate storm produced a tornado near the town of Frederick in Tillman county. A line of severe weather early Wednesday morning caused damage in the Oklahoma City metro area as well.
Copyright 2021 Paragon Communications. All rights reserved. This material may not be published, broadcast, rewritten, or redistributed without permission.