May 12, 2023
By News Director Jared Atha
A three vehicle accident near Clinton Thursday morning hospitalized two women.
According to the collision report provided by the Oklahoma Highway Patrol, the accident occurred at 9:18 a.m. in the east bound lanes of Interstate 40, 6 miles east of Clinton when Troopers said the 2001 Mercury Grand Marquis driven by 62-year old Earl Wright of Clinton lost control on an on-ramp due to wet road conditions. As a result, the vehicle would strike a 2021 Dodge Ram 1500 and a 2019 Kenworth Semi. Troopers said the collision caused the Dodge Ram to depart the road to the left and strike the cable barrier. The Grand Marquis and semi would come to rest in the roadway.
The report said a passenger in the Grand Marquis, 64-year-old Petra Wright was taken to OU Trauma in Oklahoma City where she was admitted with trunk internal injuries – last listed to be in stable condition. A passenger in the Dodge Ram, 76-year-old Virginia Bell of Sun City, Arizona was also transported to OU Trauma where she was admitted in stable condition with neck injuries.
All drivers were treated and released at Weatherford Regional Hospital.
Copyright 2023 Paragon Communications. All rights reserved. This material may not be published, broadcast, rewritten, or redistributed without permission.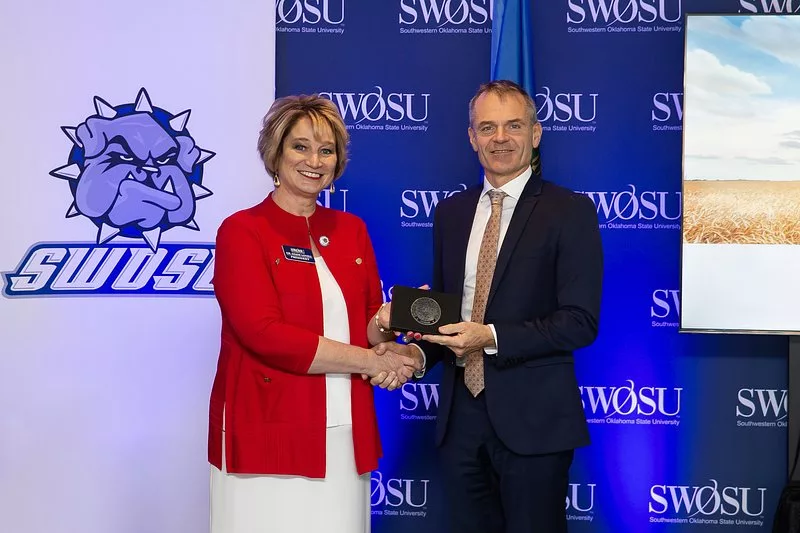 September 29, 2023 SWOSU Press Release Southwestern Oklahoma State University (SWOSU) had the honor of welcoming Ambassador Jesper Møller Sørensen from the Kingdom of Denmark on Wednesday, Sept. 27. The Ambassador's visit to SWOSU was part of