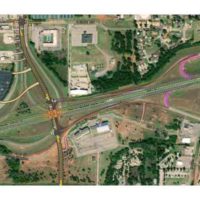 February 17, 2021
By News Director Jared Atha
The Oklahoma Department of Transportation has announced that it has chosen which plan and design to use to remodel and rehabilitate Exit 65 and 65A on Interstate 40 in Clinton.
ODOT officials say they will use Plan 2D for the project.
ODOT says Plan 2D is a standard diamond configuration with four ramps at Gary Boulevard Exit 65. The design for the Plan D includes a free flow protected turn around on the east side of Gary Boulevard under I-40 along with one way frontage roads to provide access to Neptune drive.
ODOT Division 5 Engineer Brent Almquist says multiple bridges, along with pavement on I-40 will also be replaced.
ODOT says construction on the project is anticipated to begin in 2024. However, the schedule is dependent on funding and is subject to change.