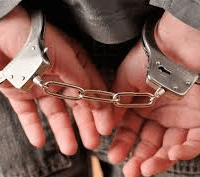 June 1, 2016
By Paragon News Director Paul Joseph  –
An Elk City man is in jail after being arrested for possession of Methamphetamine and drug paraphernalia.
Elk City police were called Tuesday morning about 11 to an area of 2nd and Boone in reference to an unknown disturbance.  While the officer was enroute, dispatch informed the patrolman that the male subject had tried to slice the tires on a black suburban.  Dispatch added that the male – described as a white male, wearing a gray shirt – had begun chasing the suburban with a knife.
Upon arrival, police observed a man matching the description, 38-year-old Ralyn Edward Walker throw something at the vehicle.
According to the police report, during Walker's pat-down by the officer for weapons, he found an object inside Walker's right, front pocket. When asked, Walker allegedly told the officer it was his pipe and that a baggie was inside the pipe.
The pipe was allegedly found in a sunglasses sleeve and when removed, the pipe was found to have a white residue inside both the bulb and the stem of the pipe.
Later, the residue inside the pipe and the white, crystal substance found inside the baggie tested positive for methamphetamine, the police report says.
Anticipated charges are expected to be possession of a CDS within 1-thousand feet of a school and possession of drug paraphernalia.
Online court records show that Walker pled guilty to three counts of possession of a CDS in April of 2006 and received 5 years in the Department of Corrections with all but 23 days suspended.
A court date hasn't been listed.
–            30              –