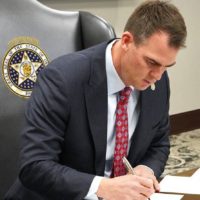 May 17, 2023
Press Release
Rep. Anthony Moore, R-Clinton, today commented on the governor signing into law a bill that creates an Orange Alert to notify residents in close proximity of a correctional facility in the event of a prisoner escape.
House Bill 1546 directs the Oklahoma Department of Corrections to develop an Orange Alert communication system at each correctional facility in the state to notify any resident within a 40-mile radius of the facility when a prisoner has escaped. The legislation was drafted by Katie Edelen, a high school senior from Arapaho-Butler Public Schools – a constituent in Moore's House District 57.
"This is phenomenal work by a young woman who took a frightening personal experience and turned it into a law that will better protect all Oklahomans" Moore said. "I am so proud of Katie's courage, insight and leadership on this important issue. Residents deserve to know if their lives are in danger, and this alert will help protect their safety."
Moore explained that Edelen's family lived through a frightening situation in which her aunt, Jamie Allen, was kidnapped by escaped inmates.
After that experience, Edelen attended "Capitol Camp" last summer. The program, held at the State Capitol, is hosted by the Oklahoma Farm Bureau for high school FFA and 4-H students. The goal is to help students learn about the legislative process and how bills become laws. During the camp, Edelen drafted the proposed legislation.
"I am excited to know that the Orange Alert is becoming a law," Edelen said. "I hope that with this bill I can keep everyone more safe and maybe potentially save a life."
Allen related her experience and her gratitude toward her niece for creating and pursuing the Orange Alert legislation.
"On March 12, 2006, one of the first things I saw when I opened my front door was orange jumpsuit pants. That signaled forever change in my life," Allen said. "Katie Sue's work on and the passing of the Orange Alert signals another forever change for Oklahomans. Katie Sue has brought a ray of sunshine to a dark situation. Although many positive things have come from what happened to me that day, I never want anyone else to have to travel through it. The Orange Alert will help raise awareness to ensure that it doesn't happen to anyone else. Genesis 50:20 says 'As for you, you meant evil against me, but God meant it for good, to bring it about that many people should be kept alive, as they are today.'"
Moore said the alert created in HB1546 would work similar to Amber Alerts that people receive on their cell phones.
The measure passed unanimously in both the House and Senate.
Sen. Darcy Jech, R-Kingfisher, is the Senate author of the bill.
"House Bill 1546 increases public safety as area residents will be more aware of potential danger," Jech said. "A more efficient public notification process will also aid law enforcement in locating escaped prisoners. I greatly appreciate Representative Moore for his work on the bill, as well as the governor for signing this legislation in to law as it not only benefits Senate District 26, but all of Oklahoma."
HB1546 takes effect Nov. 1.
Copyright 2023 Paragon Communications. All rights reserved. This material may not be published, broadcast, rewritten, or redistributed without permission.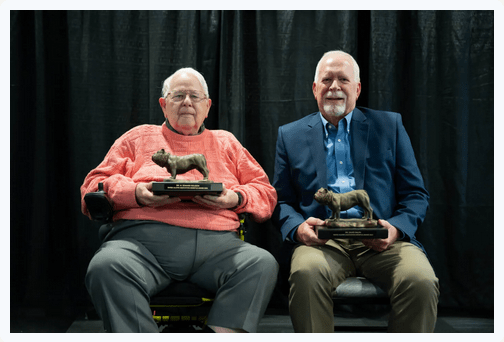 December 7, 2023 SWOSU Press Release SWOSU is currently accepting nominations for the 2024 Bernhardt Academic Excellence Award. The nomination deadline is on Jan. 16, 2024, with nomination credentials due on Feb. 13, 2024. A selection will