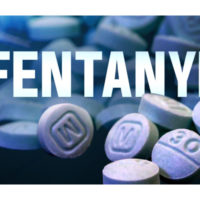 September 29, 2022
Press Release
A traffic stop turned potentially deadly early Sunday morning as two Beckham County Deputies were arresting two suspects on a county road near Elk City. The deputies had discovered the pair to be in possession of a quantity of methamphetamine and a small number of M30 pills, which are known to normally contain fentanyl. There was also a baggie of white powder confiscated during the stop. The powder later field-tested positive for fentanyl.
As the deputies were transporting the pair to the Beckham County Detention Center, Deputy Trey Hale, began to feel ill and eventually had to pull over because he felt he was becoming incapacitated.
"Deputy Hale said that he began to feel hot and flushed as he was nearing the interstate, then he noticed his face and lips becoming numb," said Sheriff Derek Manning. "By the time he drove onto the interstate, he began to feel dizzy, disoriented and nauseated."
Manning said Deputy Hale pulled off at Exit 26 as he called his partner for help.
"His partner, Deputy Aaron Allen, our K9 deputy, immediately returned to Hale's location and found him outside his patrol unit, vomiting and on the verge of passing out," Manning said. "Deputy Allen had already requested an ambulance while he was en route back to his partner. An Elk City Police unit and a Sayre Police unit also responded. While waiting for the ambulance, Deputy Allen administered Narcan nose spray to Deputy Hale, who was becoming increasingly ill and less and less able to care for himself."
Narcan is a brand name for naloxone HCL, which the Sheriff's Office carries in all of their units and in the jail. It is specifically designed to immediately counteract the effects of an opioid such as fentanyl in the case of a drug overdose, either by accidental exposure or intentional ingestion. "We have kept Narcan in our units since we were able to receive the training and have the nose-spray dosages provided a few years ago," Sheriff Manning said. "But after this incident, we are going to require our deputies to keep it on their person to make it even more accessible if we have another emergency like this."
Deputy Hale was taken by Sinor ambulance to Great Plains Regional Medical Center for further treatment and observation. He is reported to have since made a full recovery. "They determined that he was going to be okay, and they released him a couple of hours later," Manning said. "He says that he remembers very little of the incident after Deputy Allen got to him. We're all just thankful that he had a partner close enough to respond that quickly and help."
Manning described the incident as "terrifying" for his two deputies, but said that he is extremely proud of their response to the incident and the response of the communications deputy working that night. "Deputy Hale helped save his own life by remaining calm and doing what he needed to do, which was recognize the symptoms, call for help and get safely stopped. Deputy Allen saved his partner's life by doing all the things he needed to do, including getting quickly to his partner and administering the required medical aid," Manning said. "Our communications  deputy who was dispatching the incident followed her training and protocol to the letter, which is not easy to do when one of your own is in trouble. Good communications in an incident like this is always key to a successful outcome."
The sheriff said that his office, and agencies around the state are continuing to see more and more fentanyl, both on local traffic stops and on interdiction stops, and the danger of the drug is very real. "An exposure can happen so easily, and the person who is exposed, as in Deputy Hale's instance, may not even know exactly how it occurred," he said, "But within just a few moments it can shut down your breathing and heart rate and incapacitate you. Without the right kind of help it can easily result in death. It scares me for our first responders, our communities and our schools. It's not like any drug I've ever dealt with in my career."
Manning said incidents like this always remind him of the quality of people he serves with. "I'm very proud of everyone's response – and very relieved that our deputy is okay. I appreciate our partner agencies for their help, including the ambulance crew and the officers who took care of our patrol unit and prisoners. These folks doing these jobs have more and more threats coming at them all the time. In this case, the job got done, and everyone went home to their families. That's the goal. Always."
Arrested on drug charges in the incident were Steven Jacob Phillips, age 23, of Elk City and Raven Sage Thunderbull, age 24, of Elk City.
Got a news tip? Send it in: Email news@kecofm.com
Copyright 2022 Paragon Communications. All rights reserved. This material may not be published, broadcast, rewritten, or redistributed without permission.
November 24, 2022 Roger Mills Co. Election Board Press Release Candidates for the Board of Education in 9 Roger Mills County school districts will file Declarations of2Candidacy beginning 8 a.m. Monday, December 5th, 2022.