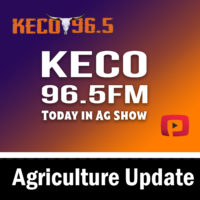 Low humidity and high winds will put our listening into a high fire danger today.
Live cattle are up. April 140.47, June 137.37, August 138.12, Oct. 144.35.
Feeder cattle are down. March 156.42, April 161.57.
Lean hogs are up. April 107.47, May 117.90, June 125.85.
Oklahoma cash grain prices. HRW 10.04, Corn 7.15, Milo 7.00, Soybeans 16.08.
Cotton is up at 1.37 a pound.
For more information listen to the Today in Ag show at noon on KECO!