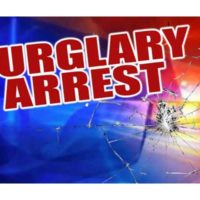 October 13, 2021
By News Director Jared Atha
An Erick man was arrested recently after being caught hiding in a closet of a home he had allegedly broken into.
According to a probable cause affidavit, the incident took place on the afternoon of October 2 when Erick police were contacted by a citizen of a possible burglary in progress at a home in the 100 block of North Pine Street.
When the Erick Police Chief arrived, he was informed by the home owner that his daughter was watching the closet that the suspect, later identified as being 31-year-old Brett Clymer, was hiding in. When the Chief announced his presence, Clymer would exit the closet and was arrested.
A search of Clymer would turn up a cellphone, a necklace, earrings, two knives, and a ladies watch. The document would also reveal that Clymer was found to be in possession of a pair of black gloves, a pair of end snips, and a screwdriver.
An inspection of the home would reveal that a boarded up window appeared to had been forced open.
Clymer was charged with one count of second degree burglary and possession of burglary tools.
Bond for Clymer was set at $20,000.
Copyright 2021 Paragon Communications. All rights reserved. This material may not be published, broadcast, rewritten, or redistributed without permission.