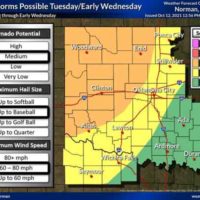 October 12, 2021
By News Director Jared Atha
Another chance of severe weather returns tonight for much of western Oklahoma.
According to the National Weather Service in Norman, The potential for severe storms will be higher later this evening and overnight into Wednesday morning across the area. Individual storms are expected to develop in parts of the Panhandles and far western Oklahoma. These storms are expected to eventually develop into a line that will move across the area.
News 9 Meteorologist Lacey Swope says a portion of southwest Oklahoma could see yet another round of severe weather over night tonight as well.
Meteorologists with the National Weather Service says large hail, damaging winds, and maybe a few tornadoes will be possible with the initial storms but then damaging winds will become an increasing concern with the line of storms overnight into early Wednesday.
With severe storms expected to take place during the night into the morning hours, make sure you have multiple ways to receive warnings including keeping it tuned to KECO for severe weather coverage in the area.
Copyright 2021 Paragon Communications. All rights reserved. This material may not be published, broadcast, rewritten, or redistributed without permission.