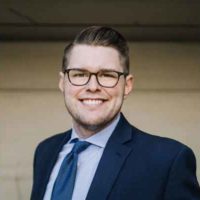 September 28, 2021
By News Director Jared Atha
Jason Bollinger, a former Carter resident and Merritt Graduate, announced his candidacy for the United States Senate representing Oklahoma in 2022 Tuesday morning on The Early Morning Show on KECO.
James Lankford currently holds the position.
Bollinger says his time away from western Oklahoma, and in Washington D.C., has inspired him to run for the seat.
Bollinger, a Democrat, currently owns The Bollinger Firm and practices law in Downtown Oklahoma City. He graduated from Merritt High School, earned an Associates Degree at Southwestern Oklahoma State University at Sayre, and then accounting and law degrees from the University of Oklahoma.
Before practicing law in Oklahoma, Bollinger spent time in Washington, D.C. where he worked at the U.S. Department of State. While there, he worked with the top levels of government, and represented the U.S. in a dispute against one of its great adversaries.
Bollinger said another Democratic candidate has also announced their intentions in running for the seat. The Primary Election will take place on June 28, 2022, while the general election will happen on November 8, 2022.
Copyright 2021 Paragon Communications. All rights reserved. This material may not be published, broadcast, rewritten, or redistributed without permission.