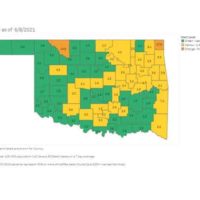 June 9, 2021
By News Director Jared Atha
Oklahoma's latest COVID-19 numbers were updated today by the State Department of Health, and once again the numbers continue to improve across the region.
Custer County still leads the way with five active cases, three in Clinton and one in Weatherford. Washita County has one active case, and Beckham County has seen a case re-emerge. That lone active case is in Elk City.
Previously, Beckham County had been without an active case of the virus for over three weeks.
Roger Mills County has no active cases.
Elsewhere, in south west Oklahoma Greer and Kiowa County are reporting no active cases of COVID-19.
The state health department's color-coded risk level map shows western Oklahoma to be in good shape with the majority of the area rated as "green" or "normal". Officials say counties in green have less than 1.43 cases per 100,000 of the population.
Dewey, and Caddo Counties are shown to be rated "yellow".
Hospitalizations in the region remains very low as well. Region 1, which consists of Beckham, Custer, Roger Mills, and Washita Counties, shows to have only one individual in the hospital due to COVID-19. Region 3, which consists of Greer and Kiowa Counties shows to have eight hospitalizations with only one in intensive care. Region 3 also consists of Comanche County and the City of Lawton.
Statewide, Oklahoma has 943 active cases of the virus with 113 hospitalizations. Of those hospitalizations, 36 are in ICU.