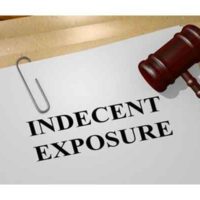 June 8, 2021
By News Director Jared Atha
An odd scene along Interstate 40 in Beckham County recently prompted an indecent exposure charge.
The person in question remains at large with an outstanding warrant out for his arrest.
A probable cause affidavit revealed that the indecent took place on the afternoon of May 5 when the Beckham County Sheriff's Office received a report of a nude male subject on the north side of I-40, near mile marker 37. When a deputy arrived they found 42-year-old Tony Chavez of Gering, Nebraska. When questioned about whether or not he had been nude, Chavez denied the allegation, but did say that he was shirtless at one point.
While another deputy remained to talk to the suspect, the deputy who originally responded to the call made contact with the reporting party. He would tell deputy that the subject was allegedly only wearing glasses and his shoes. When asked if the reporting party wanted to press charges, he advised that he did.
Meanwhile, Chavez was released from the scene.
Chavez was formally charged with one felony county of indecent exposure on June 4. An outstanding warrant for his arrest was also issued.
Bond was initially set at $10,000.