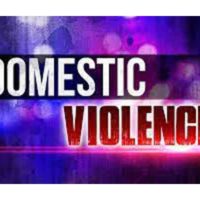 April 15, 2021
By News Director Jared Atha
An Arapaho man was arrested recently after he allegedly put his wife in a choke hold.
According to a probable cause affidavit 43-year-old Lloyd Odell Brown III was arrested on Tuesday for the crime after a warrant was issued for his arrest last week in Custer County District Court.
The court document stated that the victim had told a Custer County Investigator with the Sheriff's Department that on the night of March 30, Brown had come home upset about his job, drank a large amount of vodka before going to sleep in the couples bed. The woman stated that when he woke up sometime in the night, Brown started yelling and had become abusive towards her. She told the investigator that Brown allegedly kicked, and punched her. She said he also allegedly put her in a choke hold to the point where she couldn't breath – but stated that she never loss consciousness.
The investigator noted in the report that he noticed what appeared to be bruising on the left side of her neck, a bruise on her left arm, and bruising on the woman's left lower leg.
Brown received one felony count of domestic assault and battery by strangulation. His bond was set at $25,000. An attorney date for Brown has been scheduled for May 3.