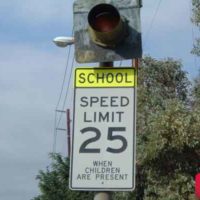 April 14, 2021
By News Director Jared Atha
A Clinton man is accused of speeding through a school zone while attempting to elude police.
According to a police report, students were loading onto school buses and cars during the incident.
The probable cause affidavit said that on the afternoon of April 6, a Clinton police officer attempted to pull over 26-year-old Omar Venegas Rios near the 11th Street and Modelle intersection. When the officer activated his emergency lights, Rios allegedly accelerated while going north on 11th street towards Nance Elementary. At that time school children were boarding buses and vehicles, as it was just at the end of the school day.
Eventually Rios made his way to a home in the 100 block of South 12th street where he refused to comply with the officer's commands to lay down on the ground. After officers got the suspect on the ground, the report stated that Rios would become combative during the arresting process.
Court documents shows this isn't the first run-in with law enforcement for Rios.
He was convicted of, among other things, resisting arrest in 2014 in Custer County.
This time Rios was charged with endangering others while eluding or attempting to elude a police officer, resisting an officer, and driving with a suspended license.
A preliminary hearing conference has been scheduled for Rios on May 14.