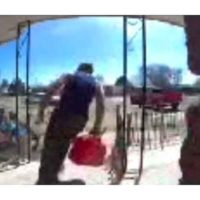 April 6, 2021
By News Director Jared Atha
The man wanted for allegedly stealing two vehicles in western Oklahoma has been captured.
Officials with the Beckham County Sheriff's Office have confirmed that 30-year-old Kasey Patrick Scott was captured in Kiowa County, Colorado, after a pursuit in the southeast part of the state.
Scott was reportedly still driving the vehicle he stole following another pursuit which ended in a crash early Monday morning after a Beckham County deputy spotted him driving a stolen vehicle from Clarendon, Texas.
Officials say Scott crashed that vehicle at Sweetwater, eluded multiple agencies on foot, before stealing the second vehicle a couple of miles east of the community.
Later in the day Scott was spotted on a doorbell camera, along with the stolen vehicle, at a home in Guymon. He would later allegedly take a can of gas from the residence.
Officials say he apparently then made his way to Colorado where law enforcement again engaged him in pursuit and arrested him.