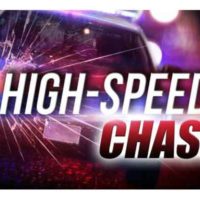 April 2, 2021
By News Director Jared Atha
A Sayre man was arrested recently after leading an Oklahoma Highway Patrol trooper on a high speed chase in Beckham County.
According to the probable cause affidavit submitted by the OHP trooper, 41-year-old Allen Dean Shelton was observed driving a vehicle at a high rate of speed on 8th street in Sayre on the evening of March 19. The trooper would proceed to follow the suspect and observed Shelton failing to stop at a stop sign, cut through a grass field, and cut through a business parking lot with what the trooper described as having "no regard for public safety".
Eventually the vehicle turned onto southbound State Highway 283 where the trooper noticed sparks coming from the rear wheels. The vehicle would increase its speed to 80 miles per hour and would swerve over the center line multiple times. After pursuing the vehicle for nearly four miles, the trooper positioned his patrol car to attempt to perform a tactical vehicle intervention, however the vehicle would come to quick stop near the intersection of S.H. 283 and county road 1230.
There, the trooper would arrest Shelton without incident.
The court document showed that a search of the vehicle would produce a glass pipe with a white crystal substance inside that was what the trooper believed to be methamphetamine.
The affidavit would also say that the state's computer showed that Shelton's driver license had been revoked.
Shelton was booked into the Beckham County Detention Center and received multiple charges including endangering others while eluding or attempting to elude an officer, possession of a controlled dangerous substance, unlawful possession of drug paraphernalia and driving with a revoked license.
Shelton's next court date is scheduled to take place on April 27.