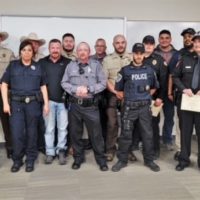 April 2, 2021
By News Director Jared Atha
The Elk City Police Department recently held the Basic Reserve Officer Academy that saw 15 individuals from nine different departments receive basic training.
ECPD officials say the seven month academy was put on by Captain of Training Shawn Tuck, along with numerous other detectives & officers that helped teach classes. Officials say the training was for anyone that was interested in becoming a Basic Reserve Officer at a department. This years Graduating Basic Reserve Class 20 BR 9-1, consisted of officers from departments including the Elk City PD, Cordell PD, Burns Flat PD, Boley PD, Thomas PD, and the Verden PD.
Sheriff departments that participated include Custer County, Washita County, and Kiowa County.
ECPD had three of the fifteen officers that graduated from this class. Those reserve officers are Butch Black, Matt Batchelor and Brian Henderson.