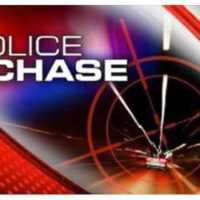 March 29, 2021
By News Director Jared Atha
A semi truck led multiple agencies from two states on a high speed pursuit recently after an alleged road rage incident in the state of Texas.
The suspect was ultimately caught and arrested in Beckham County.
According to the probable cause affidavit the Beckham County Sheriff's Department was notified of a 2006 Freightliner that was leading Texas law enforcement on a high speed pursuit on eastbound Interstate 40 on the morning of March 22. When the semi crossed into Oklahoma, Sherriff's Deputies were waiting, and picked up the pursuit near the 5 mile marker. The semi, driven by 41-year-old Mervin Lynn Peachy of Mifflin, Pennsylvania, eventually came to a stop where a deputy gave verbal commands to exit the vehicle – however the suspect refused. The deputy along with help from a Corporation Commission Officer extracted Peachy through the driver's side window after smashing it open.
Peachy was arrested and booked into the Beckham County Detention Center without incident.
The court document stated that a search of the vehicle would produce a small baseball bat in the dash – in front of the driver.
After further investigation, it was revealed in the affidavit that the chase started after Peachy allegedly had ran another motorist off the roadway in Gray County, Texas. Wheeler County Dispatched advised that the pursuit was in excess of 84 mph.
Court records also reveal that Peachy has a history of evading police with an evading a peace officer conviction in California in 2008.
Peachy was charged in Beckham County with endangering others while eluding or attempting to elude a police officer, and resisting an officer.
Bond was set for Peachy at $20,000.
His first court date is scheduled for April 12.