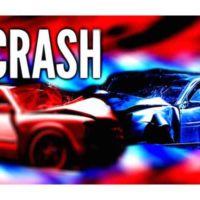 March 29, 2021
By News Director Jared Atha
A vehicle carrying nine juvenile passengers ranging in ages between 11 and 2 – all from Clinton and Weatherford – was involved in a two vehicle accident Saturday night in Canadian County near Calumet.
According to the Oklahoma Highway Patrol, the driver was possibly intoxicated.
The OHP report said that the mishap occurred four miles south of Calumet at the intersection of U.S. Highway 66 and U.S. Highway 270 when 40-year-old Freddie Stone of El Reno was traveling westbound on U.S. 66 in a 2005 Nissan Murano when he failed to stop at the stop sign at the intersection of the highways. The driver failed to see the 2015 Peterbuilt tractor that was in the process of clearing the intersection, and struck the semi. As a result of the crash, the Murano went under the trailer before departing the roadway – striking utility pole lines.
Stone was airlifted to OU Medical Center in Oklahoma City where he was admitted with a traumatic brain injury and facial fractures. He was last listed to be in critical condition.
Of the nine juveniles in the vehicle, only one was admitted into the hospital. A 7-year-old boy from Weatherford was taken to OU Children's Hospital in Oklahoma City with a spinal injury.
Four were treated and released at SSM Health St. Anthony Hospital in El Reno with trunk external injuries. The youngest occupants, a 4-year-old female from Clinton, a 3-year-old female of Weatherford, and a 2-year-old male from Weatherford were all uninjured in the crash.
OHP listed the condition of Stone as being "possibly intoxicated" and says he was wearing a seat belt at the time of the mishap. It is not known how many, if any, of the children were wearing seat belts or in car seats.
The driver of the semi was uninjured.