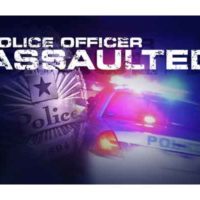 March 26, 2021
By News Director Jared Atha
An Amarillo man housed at the Custer County Detention Center has been charged after allegedly attacking a jailer.
According to the probable cause affidavit, 41-year-old Joe Edd Taff II was being escorted back to his cell after having his blood pressure checked on the evening of March 12, when the inmate allegedly punched a county jailer on the right side of his face, causing him to lose his balance and fall down. Taff would then come behind the jailer and attempted to place the man into a choke hold. However, the jailer was able to keep his hands in between his neck and the inmate's hands to stop him from choking him until help arrived.
Once help arrived, Taff was placed into handcuffs and secured.
When Taff was taken back to his cell, it was reported that once through the door and before staff was able to get the inmate inside, he attempted to break free and started flailing his elbows and trying to kick as he attempted to break free. This time jail staff were able to take Taff to the ground and gain control of him – eventually placing him in his cell.
The court document stated that the jailer that was assaulted had a red mark on the right side of his face at the cheek bone area.
Taff received one felony count of assault and battery on a police officer on March 17.
A preliminary hearing is scheduled for April 16.