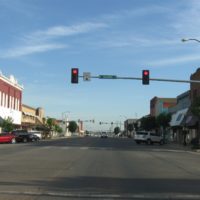 March 25, 2021
By News Director Jared Atha
While giving his city manager's report to the Elk City Commission, Elk City, City Manager Tom Ivester gave an update on the "streetscape" project planned for downtown Elk City.
He says he has met recently with the Oklahoma Department of Transportation to get the project back on track. Ivester says the project essentially is a face-lift for downtown Elk City streets and sidewalks that would be done in a phased process.
He told the commission that he feels that bids for the project have come in to high, and is actively trying to negotiate a way to get the project done with a lower price tag.
Ivester says the project is scheduled to begin in 2023, however various utility work would need to be done by the city before ODOT begins work. He says he's already contacted an engineer to begin that process.