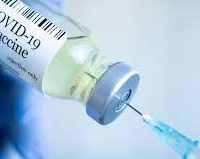 March 25, 2021
By News Director Jared Atha
Like many other vaccine providers in the state, Southwestern Oklahoma State University will be ramping up their vaccination efforts after it was announced this week that Oklahoma will be shifting to phase 4 of its vaccination roll-out plan.
COVID-19 vaccination clinics at SWOSU are set for this Friday, March 26, and Tuesday, March 30, at the Pioneer Cellular Event Center on the Weatherford campus.
Dr. Randy Curry, director of the SWOSU College of Pharmacy Rural Health Center, said Friday's clinic will be from 9 a.m. until 3:30 p.m. with 1,300 appointments available through the Oklahoma State Department of Health portal. This clinic is for all people in phases 1 through 3 of the Oklahoma state vaccination plan.
Curry said it is important to make appointments through the portal to help manage the vaccine doses. He says if people are having problems signing up, to call 580-774-3025.
Tuesday's clinic will be from 9 a.m. until 12 noon and is available for all phases from 1-4. This will be the first opportunity for people in phase 4 to get the vaccine. For this clinic, officials encourage those to make appointments by calling 580-774-3025
Vaccination clinics are still taking place in Beckham County as well.
Clinics conducted by the Beckham County Health Department takes place at the SWOSU gym in Sayre every Monday from 9 a.m. – 4 p.m, and clinics at the Elk City 1st Baptist Church every Thursday from 9 a.m. – 4 p.m.