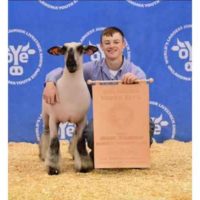 March 22, 2021
By News Director Jared Atha
Western Oklahoma was well represented by local FFA members at this year's Oklahoma Youth Expo in Oklahoma City.
One local FFA student took home the high honor of Grand Champion at the expo with his lamb that sold for $15,000. Canute FFA member Colt Randle took the prize with his Champion Hampshire that sold to a group that included State Fair of Oklahoma, Central State Trailers and AFR.
Sayde Allen of Canute 4H had the Reserve Grand Champion Lamb with her Crossbred Champion. Allen's Market Lamb sold for $10,000 to Boot Barn, Bank of Western Oklahoma, Lopez Foods and AFR/OFU.
The Grand Champion Market Goat went to Addyson Schneberger of the Carnegie FFA. Her Grand Champion Market Goat sold for $15,000 to McDonalds, Diamonds Hats and the Farm Credit Associations of Oklahoma.
Reserve Grand Champion Market Goat was show by Cara Cummins of the Hollis FFA. The Reserve Grand Champion Goat sold for $11,000 to a group that includes the OKC Fairgrounds, Farm Credit of Western Oklahoma, Western Equipment and Pfeiffer Farms.