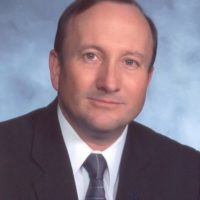 By Landry Brewer
How does a kid raised on an Elk City ranch become a university president?
Randy Beutler has served as president of Southwestern Oklahoma State University in Weatherford and Sayre since February 1, 2010.
But first he taught at multiple high schools, spent time in the Oklahoma legislature, worked for the governor, then went to work for SWOSU.
THE EARLY YEARS
When he was born in the old Elk City Memorial Hospital on 3rd Street north of the Carnegie Library, the Beutlers lived on the ranch north of town that the family had owned since Randy's great-grandfather, John N. Butler, moved to the area from Okarche before statehood in 1903.
"My grandfather, Denzil, and my father, H.L. 'Buddy,' ran a ranch and farming operation that I own and operate today as Beutler-Redd Ranches, Ltd., with my business partner Jason Redd," Beutler said.
Although he didn't participate in the family rodeo company, Randy's grandfather, Denzil, was a brother to Elra, Jake and Lynn Beutler, making Randy their great-nephew and a second cousin to Bennie, owner of Beutler & Son Rodeo Company and heir to the Beutler Brothers dynasty.
A 1979 Canute High School graduate, Beutler went on to earn a Bachelor of Arts in Education degree from SWOSU in 1983 and a Master of Education degree from SWOSU in 2003.
As a child, Beutler's first interest was history, especially the Old West. "When we went on family vacations, we couldn't pass a museum or historic site without me throwing a tantrum to stop and visit," Beutler said.
In fact, instead of posters of rock stars or movies, his bedroom walls were covered with pictures of presidents.
Although he became interested in politics and law while in high school and began college at SWOSU intending to pursue law school, he changed his major to history education. He student taught under Brenda Lumpkin's oversight at Weatherford High School and eventually replaced her when she and her husband moved.
MR. BEUTLER GOES TO OKC
Beutler taught at Washita Heights High School in Corn in the 1984-85 school year, then at Weatherford High School for seven years where he was twice named Teacher of the Year.
Hearkening back to his youthful interest in politics, in 1992 he moved back to Elk City and ran for the Oklahoma House of Representatives. Beutler defeated incumbent Representative Jim Howard, a Mangum pharmacist, and began representing House District 60.
He went on to be reelected three times, never drawing an opponent, and served from 1992 to 2000.
During his first term in the House, he was named the "Worst Legislator" by the Sierra Club. "That was actually an honor in my district," Beutler said.
He served as the Majority Whip for the House of Representatives for four years, where his duty was to secure votes for the Speaker's agenda.
Among his accomplishments in the legislature, Beutler secured initial funding to start construction of the 4-lane highway from Elk City to Altus, passed the bond issue that rebuilt Quartz Mountain Lodge and Conference Center, and secured funding from the state to purchase the private land that encompassed the Washita Massacre Site at Cheyenne for transfer to the National Park Service.
While in the legislature, he served with State Senator Brad Henry, whom he met through mutual friend Scott Meacham. Henry became the Senate author of several of Beutler's House bills.
After Beutler left politics and returned to the Elk City ranch in 2001, he ran into Meacham who said that Henry was going to run for governor. Because he was barely known outside of his hometown of Shawnee, Beutler replied, "Governor of what?"
Henry was elected governor, however, and both friends joined his staff—Meacham as State Treasurer, and Beutler as Chief Legislative Liaison. In this capacity, Beutler helped pass most of Governor Henry's agenda, including a cigarette tax that funded Insure Oklahoma, a state insurance plan that helps employers provide eligible employees with health care.
HIGHER EDUCATION CALLS
While working on Governor Henry's staff, Beutler became an adjunct history professor at SWOSU. Then, in 2006, SWOSU President John Hays hired Beutler as Vice President for Public Policy and Leadership Development.
In addition to assisting Hays with legislative and external matters and the university's strategic direction, Beutler helped develop the President's Leadership Class. "President Hays was very interested in leadership, and he told me that he wanted me to start a president's leadership program on campus and didn't want it to cost any money," Beutler said.
So Beutler began raising money to make it a sponsored program, and the first class was launched in fall 2006.
According to Beutler, several students who went through the program have become leaders in their chosen fields. One student even worked in the White House as a staff member for several years.
Beutler's job title changed again in 2010 when he became SWOSU's 17th president.
Always an educator at heart, though, Beutler continued teaching a United States History class every fall semester.
In his time at the university's helm, he has overseen building the 93,000 square foot Pioneer Cellular Event Center, the largest building project in SWOSU's history. He is also proud of the partnerships developed with Yukon Public Schools and area technology centers to expand education opportunities in Western Oklahoma.
Other accomplishments include renovating two dorms renamed for famous Native Americans. Mann Hall was named for SWOSU alumnus and one of the nation's premier Native American educators Dr. Henrietta Mann, and Black Kettle Hall was named after the famous Cheyenne Peace Chief who died at the Washita.
Additionally, the Southwest Intermediary Finance Team, Inc. (SWIFT), run out of the Business Enterprise Center on the SWOSU campus in Weatherford, was created during Beutler's presidency. "This entity makes business loans using USDA Rural Development funds, contributing to nearly $17 million in earnings and the creation of 319 jobs," he said.
President Beutler also takes pride in the renovation of the Al Harris Library second floor and the creation of the General Thomas P. Stafford Archive there.
"And, of course, the great celebration of the 80th Anniversary of higher education in Sayre, which has been a part of the university since Sayre Junior College merged with SWOSU by an act of the Oklahoma legislature in 1987," Beutler said.
In 2015 Beutler was proud to be inducted into the Western Oklahoma Historical Society Hall of Fame for his contributions to advancing Western Oklahoma and preserving its culture and history.
Beutler also takes great pride in SWOSU's being named the nation's 18th best public university by MSN four years ago.
"This has been a tremendous institution to be a part of, and this is because of the work of many students, faculty, staff members and administrators," Beutler said. "We continue to produce some of the best college graduates in the nation."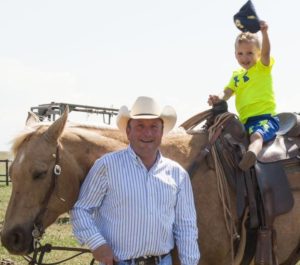 THE COWBOY RIDES AWAY
Knowing that it was time for a change, Beutler announced last August that he will retire at the end of June. In doing so, he will complete a 35-year career in education and public service, and he will end his SWOSU career as the fourth-longest serving president in the university's history.
"As I prepare to leave in June, I am extremely thankful for the opportunity to serve and know that the future of SWOSU is bright," Beutler said.
Wanting to accomplish more, he's also thankful for the opportunities that lie ahead.
As he rides into the sunset of this career, Beutler looks forward to spending more time at his ranch and more time researching and writing.
His book Impresarios of the Arena: The Amazing Story of the Beutler Rodeo Legacy by Oklahoma Hall of Fame Publishing is scheduled for publication in the fall. The book is about the history of the Beutler rodeo family and its impact on the formation of the sport of professional rodeo.
"It covers the beginnings of the original Beutler Brothers Rodeo Company to the present-day Beutler & Son Rodeo Company," he said.
A man who's been an award-winning educator, a legislator, a gubernatorial staff member, a university administrator, and a historical society hall of fame member, Randy Beutler will continue studying history and educating the reading public about it.
Perhaps, though, this cowboy from Elk City will have more time to reflect on his life and accomplishments, and the path that took him from the ranch to the president's office.
-30-