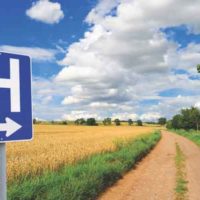 March 18, 2021
By News Director Jared Atha
Last week, Congressman Frank Lucas of Cheyenne joined Pennsylvania Congressman Fred Keller in reintroducing the Reviewing Urban and Rural Adjustments to Level Hospital Expenses and Lopsided Payments Act, otherwise known as the RURAL HELP Act in Congress.
According to Lucas' office, with the reintroduction of the Act, local hospitals could benefit with its passage.
The legislation aims to bring parity to inpatient Medicare reimbursement payments between rural and urban hospitals to help struggling rural hospitals survive by requiring the Centers for Medicare and Medicaid Services to determine the precise level of systematic disparity that exists between urban and rural hospital payments in such reimbursements. The legislation also specifies that once the evaluation is completed, the Secretary shall make an adjustment to CMS payment policies to make up for the identified disparity.
As it relates to Oklahoma's Third Congressional District, the RURAL HELP Act will help keep the local hospitals open by providing reimbursement parity with urban or suburban hospitals. Hospitals in Lucas' district include, among others, Great Plains Regional Medical Center in Elk City, AllianceHealth in both Clinton and Woodward, Jackson County Memorial in Altus, and Elk view General in Hobart.
In a statement provided, Congressman Lucas said there is an increasing trend in rural hospital closures and a decrease in access to quality care across rural communities. According to the National Rural Health Association, over just the last ten years, 135 rural hospitals have closed with another 453 at risk for closure.
Lucas was a cosponsor of the RURAL HELP Act in last year's Congress. In March of 2020, Lucas joined Congressman Keller in sending a letter to CMS Administrator Seema Verma asking her agency to re-evaluate the Medicare Severity Diagnosis Related Group classification system in the annually updated Medicare Inpatient Prospective Payment System — the mechanism that determines Medicare reimbursement for inpatient services at most hospitals.
The system recalibrations have negatively impacted these types of rural hospitals over the last several years and this re-evaluation is a critical component to ensuring rural hospitals receive the appropriate Medicare reimbursement amount.