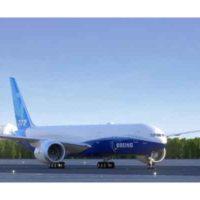 February 24, 2021
By News Director Jared Atha
Test flights at Clinton-Sherman Airport in Burns Flat that were announced last year by Boeing appear to have begun.
Boeing announced last year that the company would be testing their 777-9 passenger plane at the Washita County facility.
The 777-9 is Boeing's newest commercial wide-body jet. It's the longest aircraft of its kind in the world at over 251 feet, and can carry more than 400 passengers. Its two GE9X engines are the biggest and most powerful turbine engines in operation.
The airplane arrived Tuesday afternoon.
Boeing officials say the tests are a part of their test program for the 777X, which consists of a series of tests and conditions on the ground and in the air.
Boeing says the 777X moniker refers to two new variants of Boeing's popular twin-aisle, 777. Neither the 777-8 nor its larger sibling, 777-9, is in service for commercial passengers but Boeing has taken 340 orders from airlines around the world at a cost of more than $400 million per plane.
Boeing test operations are based at Seattle's Boeing Field where the 777-9 took its maiden flight a little over a year ago, but Oklahoma Space Industry Development Authority Executive Director Craig Smith, who operates the airfield, says Boeing likes Clinton-Sherman for its long, wide runway that can accommodate the large aircraft.
Boeing has used the airport and its runway for testing before. Most recently in 2015 when proficiency training and flight tests were conducted there on a 747-800.
Smith says Boeing's presence could possibly attract other businesses to utilize the runway in the future.
Smith says Boeing plans to continue the tests on the plane for about 16 days.