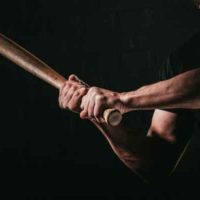 February 18, 2021
By News Director Jared Atha
A Sayre man was arrested and charged with a felony recently after allegedly hitting another man with a baseball bat.
According to a probable cause affidavit, 37-year-old David Wayne Ireland was arrested February 8 in Sayre after an investigation showed that Ireland allegedly hit the victim with the bat on his left shoulder.
During an interview, the victim told police that while walking to his home, he noticed a white suburban parked at a convenience store with the windshield covered. He stated that he kept walking and then noticed that the suburban flashed it's lights at him. That's when he went across the street to see if the occupants of the vehicle needed assistance. He told police when he got to the suburban the driver's side door opened and Ireland got out of the vehicle and began yelling at him, calling him a peeping tom and a pedophile. That's when Ireland allegedly stuck the victim with the bat.
A witness, who happened to be an off-duty police officer with the Hollis Police Department, would tell Sayre police that he too would notice the vehicle with it's hazard lights on and inquired with Ireland if he was in distress. He stated that Ireland mentioned that he was upset that the victim was not arrested for violating his protective order. The witness also stated that Ireland told him that he had struck the victim with the bat, and that the victim had ran from the scene. Ireland told the witness that he chased the victim while yelling "peeping tom".
The affidavit would reveal that there was indeed a protective order, however it read that the victim was not to contact Ireland at a Sayre grocery store, or at the grocery store's meat market.
Police were also informed by dispatch that Ireland had allegedly made a statement on social media, stating the he had struck the victim in the head with a baseball bat.
Ireland received a felony count of assault and / or battery with a dangerous weapon.
His next court date is scheduled for March 8.