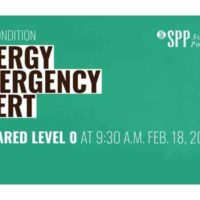 February 18, 2021
By News Director Jared Atha
The Southwest Power Pool is no longer under an energy emergency, the company announced Thursday morning. As of 9:30 a.m. Thursday, SPP was no longer under an alert. Due to continuing high loads and severe cold weather, SPP said it remains in a period of conservation operations until 10 p.m. Saturday for the entire SPP balancing authority area.
According to the SPP, the power pool reached a peak of over 38,600 MW around 9 a.m. Wednesday morning, before seeing that number go down. If the SPP chooses to return the Energy Emergency Alert back to a Level 2 or 3, where it was until about mid-morning Tuesday, then the rolling blackouts could return.
If this happens, Public Service Company of Oklahoma Region Communications Manager Stan Whiteford says customers should practice conserving energy as much as possible to prevent future rolling blackouts.
The Southwest Power Pool is the grid system that oversees various electric companies including Public Service Company of Oklahoma and Northfork Electric Cooperative in western Oklahoma.
Fortunately Meteorologists have canceled the winter storm warning in the area that was scheduled to expire tonight at 6 p.m. The forecast in the area looks good as well, with temperatures starting to trend up starting tomorrow, above freezing by Saturday, and even pushing 60 degree weather as soon as Monday.
Update: 2/18/21 10:57 a.m.