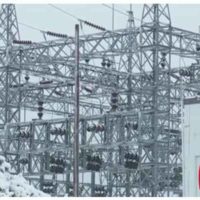 February 16, 2021
By News Director Jared Atha
Despite the rolling blackouts in Oklahoma put on pause, officials say the state is not out of the woods yet with freezing temperatures continuing to hammer the region.
Monday power-grid manager Southwest Power Pool, which is the grid system that oversees various electric companies including Public Service Company of Oklahoma and Northfork Electric Cooperative, declared a level 3 emergency for its entire 14-state area. The emergency was issued due to high consumption of energy across the region because of the extreme cold temperatures that have gripped a large area for multiple days.
Due to the declaration, rolling blackouts occurred Monday and Tuesday morning throughout the state.
Northfork Electric Cooperative General Manager Brent Meador says the high use of energy along with other factors have forced the power pool to declare the emergency – which at times have forced electric providers to implement the rolling blackouts.
Meador says SPP may implement more rolling blackouts tomorrow morning. He says on average the blackouts have lasted almost an hour and a half.
Public Service Company of Oklahoma External Affairs Manager Mike Hixson says PSO is also involved with the rolling blackouts when they occur. He says PSO will attempt to notify affected customers before any blackouts happen.
In the meantime, both Northfork and PSO officials are asking customers to conserve energy until the emergency declaration has been lifted.