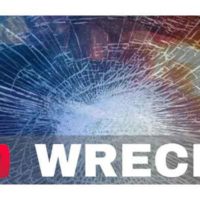 February 15, 2021
By News Director Jared Atha
Slick roads and high speed appear to be to blame for a rollover crash in Beckham County Sunday morning.
According to the Oklahoma Highway Patrol, the mishap occurred just after 11 a.m. in the eastbound lanes of Interstate 40 near mile marker 40 in Elk City. OHP says 18-year-old Suede Hamel of Stillwater lost control of the 2008 Ford F-250 he was driving, struck a guard rail and rolled 2 ½ times down an embankment, through a chain-link fence before landing on its top.
Hamal was transported to Great Plains Regional Medical Center before being transferred and admitted in to OU Medical Center in Oklahoma City with a head injury. He was last listed to be in stable condition.
A passenger, 20-year-old Ethan Deer of Perkins, was treated for minor injuries at GPRMC and released a short time later.
OHP lists the cause of the crash as being "to fast for snowy road condition".
No other vehicles were involved in the mishap.